For Bunbuns 3dr anniversary there was a competition for most original present for Bunbun or fan art here are the winners:

1rts Place: Jasper van Emmerik for his 2 stop motion Bunbun animations.



Thanks again Jasper for these funny clay animations, you really made us want to start make Bunbun clay animations.
You get to pick any one of these 10 by 10 cm acryl Bunbun paintings.

2nd Place: Miriam Bos for her hand painted Bunbun box.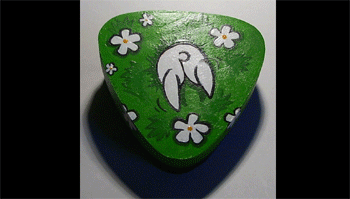 Thank you for this lovely piece of craftsmanship, you get second pick to any of these 10 by 10 cm acryl Bunbun paintings.(originally 2nd place was a original drawing, but since Miriam made suck a lovely painted box we could not just give her a drawing in return.
3dr Place: Suicide Bomber Bunbun animated gif by Mike "Tanukitsune" Alons.



Love the animated gif, and bonus points for you for being the only non Dutch contestant, you get a Bunbun small press fun package and buttons.

4th Place: Menno Knopperst's short dialogue between characters from a fictional soap series confronted with something Bunbun.
Too bad for everyone who doesn't read Dutch but 3 Bunbun buttons are yours.

The following people made a guest comic and will get beer when met:




Réne van Densen.




Rob van Barneveld.




Wendy.




Mingus.




Rutger Ockhorst.




Michiel v/d Pol



Hallie Lama.




Jochem Smaal

The following people send the these pieces of fan art (but Will not get beer or Buttons or anything).



Jochem Smaal.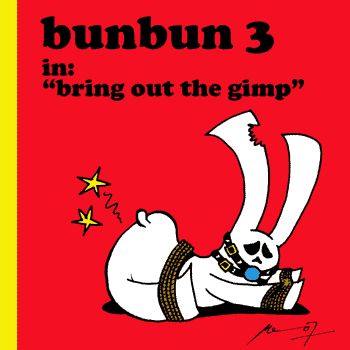 Menno Kooistra.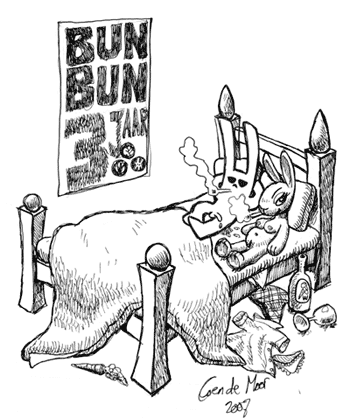 By Coen de Moor.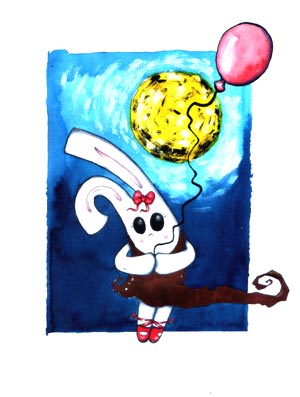 Nubnub By Bo-Danique Blom.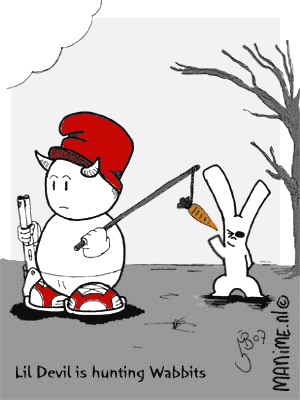 Bunbun en lil Devil by Manime.

If you do not agree with any of this, please complain at your local bar of hairstylist but do not contact us.