Myx magazine is dead so no more monthly Bunbun.
6 - 9 May 2010.
Bunbun will visit FICOMIC In Barcelona
11 - 13 December 2009.
The Bunbuns will visit their second international comic con appearance, jet again in Turnhout Belgium (you'll find us in the basement) come buy the new Bunbun 24hour smallpress or other stuff if your in the neighbourhood.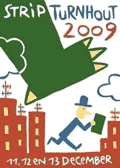 (click image for link)

3 October 2009.
Another Bunbun 24hour comic in the making at the 24 hour comic day in Lambiek (Amsterdam).
17 - 20 September 2009.
This Bunbun E-Card animation was nominated for best sendable animation at the KLIK! animation festifal in Amsterdam. This animated gif was made specially for the KlIK! site.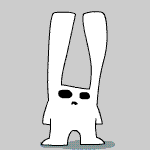 21-23 August 2009.
A Bunbun animation was to be seen on the 360 tower screen at Lowlands festifal.
check here for an impressinon of the animation on the festifal or here for the original animation.
19 May 2009
The Bunbuns 5th bithday went by even more uneventful than the last.

15- 19 April 2009
This short Bunbuns animation was seen on the Imagine Film Festival website.

18 October 2008.
Hopefully another Bunbun 24hour comic in the making at the 24 hour comic day in Lambiek (Amsterdam).

15 - 17 August 2008
The Bunbuns will appear on Lowlands festival(TV).

19 May 2008
The Bunbuns 4th bithday went by uneventful.

18 Januari 2008
The Bunbuns appear in Cutie online magazine.

14-15 December 2007
The Bunbuns will visit their first international comic con appearance, not in the UK, not in the US but Belgium
come buy the new Bunbun 24hour smallpress or other stuff if your in the neighbourhood

7 December 2007
New Bunbun animation online:
Bunbun Arcade Classic.

20-21 October 2007



The Bunbus joined The 24 hour comic challange yet again at the Lambiek Comic store in Amsterdam.
Check out the 20 pages result here.
Click here for more info on Lambiek or here about the 24 comic day.


30 September 2007
like last year the Bunbuns got nominated for a webcomic award and like last year the Bunbuns did not win.
Sandra Kleine Staarman did, Go and check out her site and see it''s an honour to lose from such a great artist.
29-30 September 2007
Comic con in Houten (Utrecht NL) at the Nieuw Gehoer Stand.

01-09-2007
finally, the new design is here.
The plan was to have this new design with php and random comic function online the 19th of May
but it took some extra time. the long expected comment function will probably follow quite soon.
all thanks to Bart van Oort (so much more than a brilliant sound designer)

01-September-2007


The Bunbuns got nominated (yet again) for a Clickburg Webcomic Award in the category 'Best use of the Medium' along other nominees such as: Sandra Kleine Staarman – Little Starman (Dutch), Remco Ketting – Lizzy (English), Stephan Brussche – Lucifer (Dutch). Take some time to check them out.
More info on the Clickies here.

19 May 2007: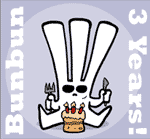 Bunbun's 3dr birthday celebrations and stuff here.

21 March 2007:



If you can read Dutch and love (horror) comics, you should have this.
More info here.
16 March untill 13 April 2007:
In the comic store Lambiek in Amsterdam is a small expo celebrating the release of Bloeddorst .
If you are in the neighbourhood go and check ik out, there are some Bunbun paintings on sale as well as other original drawings from Bloedorst.
Lambiek
Kerkstraat 132
Amsterdam 1017 GP
The Netherlands
Tel: +31 20 626 7543
website.
8 March 2007:
A short Interview with Mattt Baay about the new Bunbun animations for Intermediar.
(Removed from the site)
And even shorten version of this interview even made it to the Intermediar magazine.
(picture soon)

February 2007: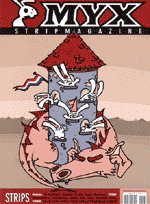 A Bunbun Cover on Myx Magazine with a 4 page interview/special.
What are you waithing for, go and buy it now!

24 February 2007:
Mattt Baay will be at the comic con in Rijswijk (at the Myx stand) come and say hello or buy some unique Bunbun 10x 10 cm Paintings or other crap.

January 2007:
There will be a series of 4 animations exclusively made for Intermediar featuring Bunbun over the first four
months of 2007. Check the first animation here.
Highlights 2006:

The Bunbun Web animations (7 of them) got selected for the HAFF (Holand Animation Film Festifal) Panomama NL web selection. (14 October 2006.)

Zampzon and Daku from Digitalstrips.com did a podcast review of the Bunbun webcomic.
Quote: "It's a sick, twisted, violent and sexually orientated webcomic. That's what makes it fun."
Listen here. (03 may 2006)

The Bunbun webcomic was nominated for a ClickburgWebcomicAward (a Clickie)
A Dutch award for best webcomic of the Benelux. But did not win. Stephan Brussche did. (02 may 2006.)
Click here for more old news (2005-2006)

The content of this site is © Mattt Baay (Matt Baay/Illumatie), 2004 - 3009 unless otherwise specified. No reproduction without permission. All rights reserved.